I like to take pictures. This is taken on Kelly Drive. I call it "Eclipse of the Balloon." The Zoo balloon that is. I will be adding to my collection of photos in the future.
This is my current bicycle. A Kona Big Rove ST. It is a steel adventure bike with roots going back to pre-suspension mountain bike era. It is the perfect urban cruiser with its 2" wide semi-slick Schwalbe Big Apple Tires. Since I've been tackling the single track around Belmont Plateau a lot lately, I got a set of MAXXIS 2.1" Crossmark II's. It gives me much better traction on the trails. But remarkably it still rolls extremely well on asfalt.
My last road bike was a Raleigh Technium Pro. I bought it for less than $100 off of Craig's List. I modified it myself with new brake levers and the drive train components from a Proteus that my friend gave me after he destroyed the front fork.
Another Craig's List find. This Trek Mountain bike had a totally corroded front fork which I replaced with a Surley Krampus ridgid fork. It was my first bike with disk brakes. What a difference disk bkakes make. They are significantly more powerful and the braking power can also be modulated.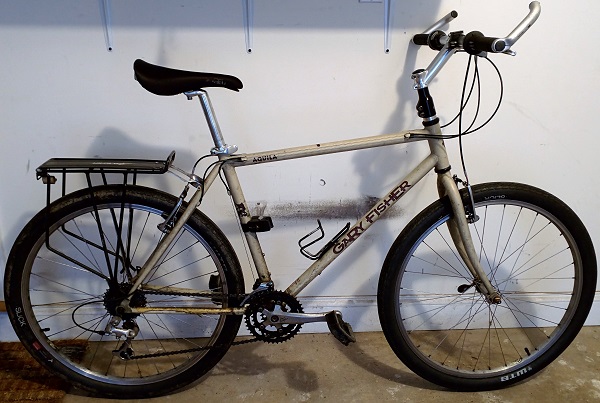 My first Mountain Bike. Bought in 1993 before suspension was a thing on Mountain Bikes. After riding it into the ground for 20 years, replacing a couple of cassettes and the middle crank ring, the wheels started going. Spokes were popping. Rims weren't staying true. It was either a new set of wheels or a newer bike. Newer bike won.